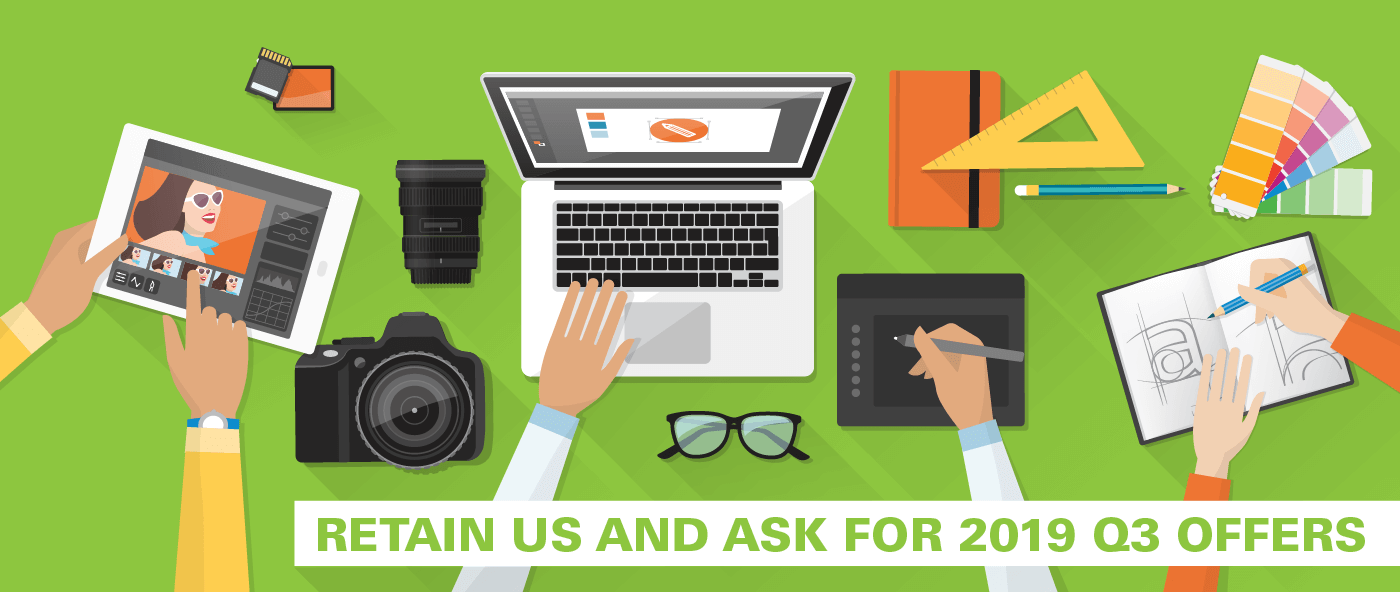 Retaining a full service Design Agency
Most companies don't think twice about outsourcing critical functions, such as legal, accounting, financial consulting, sales, etc. So why not marketing? Finding the right agency and establishing a partnership that really works is not an easy task, but there are many advantages to using a third-party marketing firm. And, not all agencies require super-­sized budgets or charge high fees. The key is to find a reputable firm that can develop and implement a fully integrated marketing communications plan based on your short ­and long-term goals. 
The true value of an agency lies in the creation of a customised marketing strategy — above and beyond clever advertising. Beware of agencies that proudly showcase their creative awards, but shy away from showing their results. Case studies and client references that speak to profitability and growth are far more important. Ideally, the firm you select should be your agency for many years – growing by helping you grow – so look for one that like us has a history of long client tenure. As a worthy agency, Re:View can treat and educate those working on your business like a valuable extension of your sales/marketing team and your company will reap the benefits.
5 reasons to consider retaining a full-service agency:
1 –
Team of Experts.
Many businesses turn to agencies for specialised knowledge.  Small businesses, in particular, may not have their own marketing department and can greatly benefit from the depth of experience an agency can bring to the table.  When you retain an agency, the account is usually assigned a team of experts to work on your business including media buyers, graphic artists, copywriters, account supervisors, PR specialists and web designers/developers.
2 –
Time Savings.
Rather than coordinating numerous projects with multiple suppliers, using an agency allows all projects to flow through a single point of contact, usually the account manager. This means you only need to manage one relationship. The account manager collaborates with all team members, they are responsible for keeping track of everything. Managing all or most of your marketing projects through one firm saves time, provides synergy and helps ensure that all outbound materials are strategically aligned and consistently branded.  A good agency will complement your existing staff, supplement your marketing efforts and maximise your ROI.
3 –
Cost Savings.
A retained agency can provide expertise that most businesses can't afford to bring on board as employees.  In fact, depending on the size of the agency and scope of work, the retainer fee may actually be less than the salary and benefit package associated with hiring just one internal marketing person. Additionally by committing to hours in bulk the agency will normally discount the hourly rate in order to have the piece of mind of studio time pre-booked.
4 –
Staying on top of your branding.
Well-established brands often need a refresh to stay relevant in the marketplace. Agencies can help update your brand image by developing an updated brand along with guidelines. When was the last time your business updated its website? Does it look dated?  Most full-­service agencies have experienced web designers and developers that can refresh your site, teach you how to update its content, and perform behind-the-scenes coding and search engine optimisation which will improve your organic search results.
5 –
Creative input.
Some businesses worry that a third-party marketing firm is not going to really "get" who they are or know how to market their products or services in a way that differentiates them from the competition. When searching for an agency,  it would be ideal to find one with very specific and extensive knowledge in your industry.  However, that's not always necessary. Agencies with experience in a variety of industries often provide a fresh perspective and an unbiased opinion. Agencies learn from their experiences with other clients and proactively recommend new strategies.
We are offering some fantastic rates for new business enquiries where retained service agreements are taken up in August and September 2019.
To find out more about how Re:View can help your business grow contact us on 01438 901 250 or enquire online