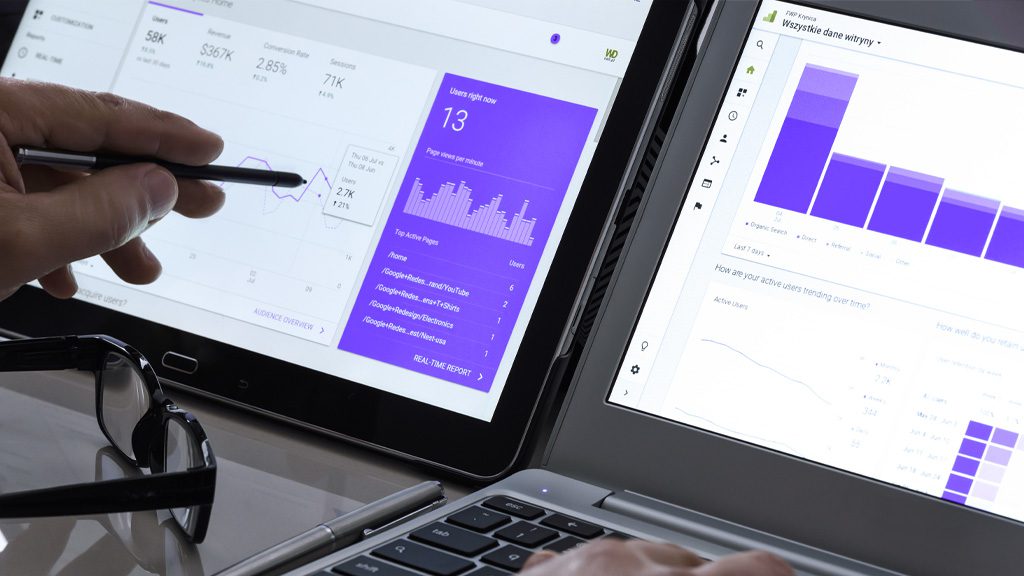 Google Analytics 4: What is it?
Google released Google Analytics 4 two and a half years ago to take into account the changing measuring standards and aid in business success.
With the ability to measure a wide range of data types, Google Analytics 4 offers a powerful analytics experience that is built for the future.
Businesses can use Google's machine learning technology to predict new insights, observe unified user journeys across all their websites and apps, and most crucially, it's designed to keep up with an evolving online ecosystem.
A business can monitor its website and applications using Google Analytics 4, as well as examine how marketing channels drive visitors to its website.
GA was first introduced in 2005, and since then there hasn't been a significant update, thus it's past due for a complete overhaul of the programme.
To facilitate the transition, Google has continued to support Universal Analytics even though GA4 was released in late 2020 and UA will be phased down in July 2023.
Should you upgrade to Google Analytics 4 for reporting?
Should I stop using Universal Analytics and switch to Google Analytics 4 right away? is the first thing to consider before examining the differences between the two.
The quick response is no. Setting up GA4 and utilising it in conjunction with Universal Analytics is the ideal scenario, keep in mind that Universal Analytics won't last forever therefore It's best to start transitioning to GA4 as soon as possible.
Now that you know what to expect, let's go over the main distinctions between Google Analytics 4 and Universal Analytics.
Analysis tools now put more emphasis on user interaction
In addition to being able to gather and combine more data, Google has improved the usability of user-centric reports by lining up the report menu parts with the customer experience.
More of the user's journey is available
Google Analytics has undergone significant modification, and not simply in the way that its user interface for reporting has been altered.
Everything about it has changed.
Sessions and other measurements that may be easily broken down by platform or device are no longer the focus.
Now, users and their interactions, which are now only recorded as events, are the main focus.
Goals and events setup that is simple
Google refers to this as "Event Editing and Synthesis," which lets you fine-tune goal tracking and obtain detailed behavioural data with little to no need to alter code or modify goal setup.
It will be especially helpful when transactional features, like application forms and checkouts, are housed on a sub-domain or third-party website because what was formerly complicated is now simple.
Build stronger audiences for your advertising campaigns
With the addition of new, more potent measures in GA4, together with more potent analyst tools and integrations, marketing campaigns will be able to reach more potent audiences, improving their return on investment.
More sophisticated user tracking and privacy features
To comply with existing and future privacy rules, Google Analytics 4 allows you and your users more intuitive and precise control over the personal data that is gathered.
For instance, GA4 now allows you to disable the personalisation of advertising based on certain events and user data.
Enhanced reporting and visualisations
Although the platform's UI has mostly stayed consistent, there are a number of new visualisations and reporting features.
The added reporting visualisations are a game changer, but existing visualisations and strong favourites like 'Real Time' have been improved and made more interesting.
A large variety of Parameters
To extract value from analytics, having the appropriate data and level of granularity for some KPIs is extremely essential. Even though having more data doesn't always equate to better data, using the proper parameters can be useful.
So, what now?
On 1st July 2023, all Universal Analytics properties that are standard will stop processing new data, and on 1st October 2023, all 360 Universal Analytics properties will stop processing new data.
After that, you'll have at least six months to view the already processed data in Universal Analytics.
Before Universal Analytics stops processing new data, switch to Google Analytics 4 as soon as possible to combine the necessary historical data.
Current clients in a monthly package with Re:View need not worry about switching over as we will take care of this for you. Find out more about our fixed packages.